Children/Services
Cathedral Early Childhood Center is a Nationally Accredited Center owned and operated by the Cathedral of St. Joseph and is incorporated under the auspices of the Catholic Diocese of Kansas City-St. Joseph.
The Cathedral Early Childhood Center provides child care for children six weeks to fourteen years of age. Our curriculum includes 3, 4 and 5-year-old full-day preschool and before and after school care.
Our age-grouped classes encourage children to be actively involved in the learning process as they experience a variety of developmentally appropriate activities.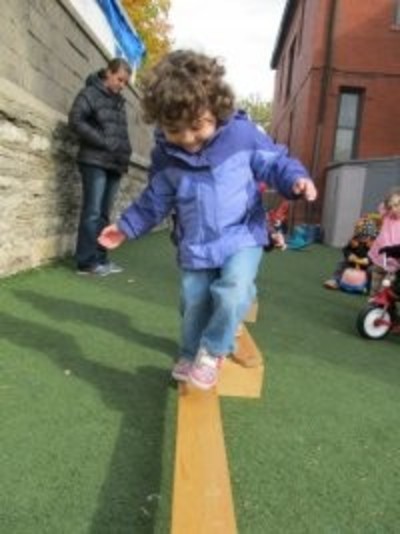 The daily schedule is planned to balance indoor/outdoor, active/quiet, individual/small group/large group, large muscle/small muscle, child-initiated/ teacher-initiated activities within a child-oriented context. These activities are designed to foster self-concept, develop social skills, encourage children to think, reason, question, and experiment, encourage language development, develop physical skills and creative expression and to enhance sound health, safety, and nutritional practices.
Teachers working with the three-, four-, and five-year-olds design lesson plans based on state and national standards to teach specific skills necessary for age-appropriate development. These activities are directly related to the assessment used for each specific age group and are designed to promote the development of the whole child and address the spiritual, social, emotional, physical, and cognitive skills necessary for lifelong learning.  In addition, we are using the Sadlier Discovering God's Child and Discovering God's World in our 3's and 4/5 Preschool classes. Joyful songs, poetry and hands-on activities introduce children to God's gifts of self, creation, and love with family and the church community. This specially designed program addresses the social, emotional, intellectual, and physical development of children in an early education program.
The infants/toddlers and two-year-old teachers complete their lesson plans following High Scope guidelines.  This curriculum is specifically designed to assist teachers in meeting the needs of our youngest learners and reflect their unique developmental stages and learning styles.
Infant Program (6 + Weeks)
We provide stimulating learning and gross-­motor activities by staff members who have unique and exceptional skills. All of our instructors are CPR and first-­aid certified. To aid and modernize the learning process, we have added all-­new equipment.
We maintain a 1:4 ratio in our infant room.  This small ratio allows the teachers to be able to read the cues of the babies and attend to their needs.  Teachers hold infants to read to them and move infants to a new position to have a variety of experiences throughout the day.  Communication between parent and caregivers occurs daily to build mutual understanding and a trusting relationship.
Toddler Program (12 + Months)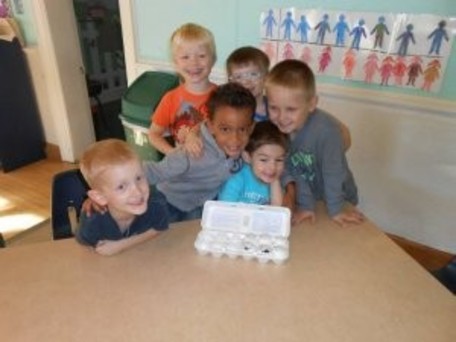 With an emphasis on a fun learning experience, we divide our toddlers by age, which allows for specialized time between teachers and our children. However, we also offer individual programs to fit each child's needs. To maximize the educational opportunities, we have added all-­new equipment.
Our toddler program carries on the ongoing communication with families that starts in the infant room.  Toddlers are recognized for their accomplishments to help them feel more confident and control of their actions.  Teachers promote language development so children are able to communicate their needs and wants.
Preschool / Pre-­‐Kindergarten Program (4-­5 Years)
Every effort is made to enhance the learning and teaching environment. 
The preschool classroom is set up so children are able to have a variety of play experiences that encourage the development of skills.  Some examples are blocks to promote math skills, book area to encourage literacy, housekeeping to encourage social skills, and art to inspire creative expression.  The teachers plan daily activities that correspond with Missouri Pre-K standards to that the children have the skills need to be successful in Kindergarten.
School-Age Program (5‐14 Years)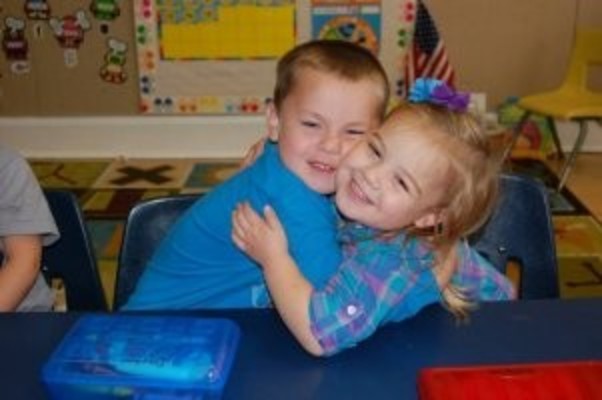 We prepare children by engaging them in fun activities that help them learn. We are particularly excited about restarting our school-­age summer program.
Our school age program is available for families who need care after their child is dismissed from Cathedral School.  The staff promotes an environment to develop friendships and caring for our community.  The staff communicates with teachers at Cathedral to provide assistance to the children who need extra help in their academic studies.   Children receive a nutritious snack and have the opportunity to be able to play on the outdoor equipment.
ST. GIANNA EARLY CHILDHOOD CENTER
509 North 9th Street Saint Joseph, Mo 64501 Ÿ (816) 233-9794 
St. Gianna Early Childhood Center's facility offers a variety of care options for the families that we serve. We offer a full day program for families who need care for more than 3 hours a day. This service is available from 6:00 am-6:00 pm for children ages 6weeks to 5 years of age. For children who are enrolled on a part-time basis, there is a 3-day minimum enrollment, with selecting the same 3 days for each week.
RATES FOR FULL DAY PROGRAMS
St. Gianna's ECC offers breakfast, lunch and an afternoon snack for the children enrolled full time. Registration fee is $75 per child. Tuition is calculated weekly and can be paid on a weekly or monthly basis.
                                                   Regular Tuition  Part-time Tuition
Infant/ Toddler                              $234/Week        $156/Week
Two-Year-Old                                $193/Week        $142/Week 
Preschool Full-time                       $170/Week       
Preschool 3 days a week               $125/Week              
Preschool half day                         $46/Week
Tuition Discount- If a family is registering more than one child in our 5 day full-day program, the tuition rate is discounted by 10% for the second child and 20% for the third child.
Holidays-
The center is closed for 9 major holidays per year, charges for which are included in your contractual obligation.
New Year's Day                               Good Friday                          Memorial Day
Independence Day                          Labor Day                             Thanksgiving Day
Friday after Thanksgiving               Christmas Eve                      Christmas Day
Additionally, the center will be closed two days per year for Professional Staff Development days. These dates are outlined in your contract each year
Rates are effective as of 8/1/2019 and are subject to change with a two-weeks notice.